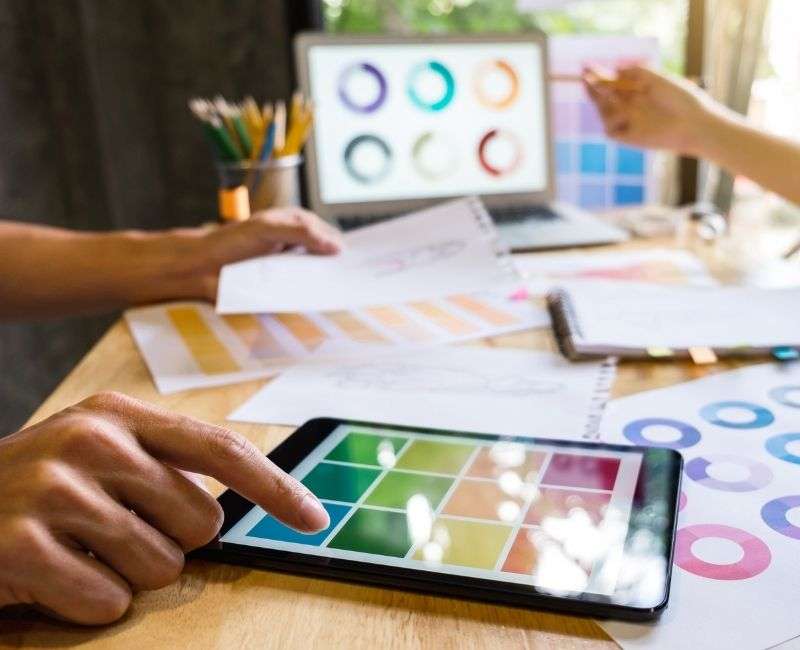 How To Use Quality Design To Build A Powerful Brand Identity
    
	With so many brands producing exceptional products, some business owners are unsure how they can get their business to stand out from the crowd.

Of course, the first priority is making sure you have a great product or service that provides real value to your customers. But after that, what can you do to differentiate yourself?

One of the best ways is by focusing on branding and design, as these elements are critical to any business's marketing success. In this post, we'll cover a few of the main benefits of using quality design to help build a powerful brand identity. We'll also share a few pointers for incorporating quality design into your business.

Let's get started!


Benefits of Using Quality Design In Your Marketing Campaigns


There are many important aspects that go into a successful marketing campaign, however, it's safe to say that design is right near the top of the list. Here are just a few of the benefits that can be seen by using quality design in your marketing campaigns.


Establish Trust And Familiarity With Your Customers


All the best brands have one thing in common - they have a loyal customer base that trusts them.

Just look at Apple, McDonald's, Nike, and other big-name brands. Their customers are most likely to choose their products because they know what to expect. They know they are going to get the same thing every time.

If your branding is all over the place, consumers will have a hard time trusting your company. To understand why this is, just think about a time when a company you followed for years made a major change to a key element of their brand design, perhaps their logo or colours.

How did this make you feel? If you're like most consumers, it's a little confusing. We like what we know. And when what we know starts to change, we get a little uneasy.

It's not that your products or services are bad, it's just that constantly flip-flopping between designs makes your customers think that your company doesn't have a strong, stable identity.

When this is the case, they're likely to switch to a company that has a better sense of who they are.

Taking some time to solidify your design and branding can go a long way when trying to establish trust and familiarity with your customers.


Differentiate Your Brand From Competitors


Every year, it seems like there's more and more competition for your business, regardless of what industry you operate in. There's a very simple reason for this - there is more competition.

As technology improves, there are much fewer barriers to entry for starting a business. Many of the tasks that previously required thousands of dollars of capital can now be completed for next to nothing.

A prime example of this is setting up a business website. If you needed a website in the early days of the internet, you would need to hire someone who knows how to code. They might charge thousands of dollars to build your site because they possess the skills you need to make it happen.

However, now there are many intuitive website builders that allow people to create their own website for free. The best part? No coding experience required!

With these and other barriers to entry eliminated, the market is getting flooded with new businesses and competition is at an all-time high. So how do you stay at the front of the pack?

By focusing on branding. And one of the best ways to improve the branding for your products, services, and company is to invest in quality design.

After all, first impressions are extremely important in business. Look at it this way - if a customer has to choose between two identical products, they're going to choose the one with better packaging almost every time.


Increase Visibility of Your Marketing Campaigns


Quality design can also help improve the efficiency of your marketing campaigns. For example, if you have a memorable logo or unique brand color scheme, you'll immediately stand out.

This is helpful because if you're spending money on ads or direct mail, you don't need to waste valuable space introducing yourself - your logo has already done that for you. Instead, you can just jump right into the offer you have for your prospects.

One of the best examples of this is Google. Their simple design uses the four primary colors to immediately establish a sense of familiarity with their audience. Even if you don't see the name "Google," your brain immediately associates the colors with their company.


Increase Conversions


Quality design can also help increase conversions. For example, the way you structure the landing pages on your website can have an enormous impact on how many people engage with your content.

When text is too close together or too small, your website visitors are more likely to exit your site and visit a competitor.

Similarly, data shows that using certain colors in your design can help increase click-through rates. This is due to the fact that bright colors are better at grabbing the reader's attention, increasing the likelihood that they will see your offer.


The Three Stages of Design 




1. Conceptualization


Nothing exists in our world today that didn't first start out as an idea. Quality design is no different.

When coming up with ideas for your brand's design, it's important to first build a customer persona. After all, it's unlikely that your products or services are a perfect fit for everyone on the planet.

That's why you should always try to brainstorm which demographic (or combination of demographics) stands to benefit the most from your product:

Age.
Gender.
Race.
Ethnicity.
Geographic Area.
Educational attainment.
Income level.
Once you've narrowed down your ideal audience to a specific subset of people, you can then start coming up with design ideas that are most likely to resonate with them. For example, if your ideal audience is high-income women in the Edmonton area, you'll want to use this information when choosing a colour scheme, graphics, and logos for your website.
2. Design
In order to transform your idea into a design, you need to take action. The best way to take action is by building the appropriate team around you to help bring your idea into existence. In the wise words of Phill Jackson, coach of the Chicago Bulls during their historic run in the 90s,
"The strength of the team is each individual member. The strength of each member is the team."
There are a number of important people who need to be involved when planning a design. You might need a graphic designer to help with images, colours, and other visual elements. You will need a copywriter to ensure the words in your design flow naturally and elicit emotion from the reader. You might need a web specialist with experience creating a user-friendly interface for your website. Or, you might need dozens of other specialists to all come together to create something truly unique.
3. Delivery
Once you have finalized your design, it's time to get it out in front of the right people. To get it in front of the right people, you need to make sure you're using the right channels. Today, there are more ways to reach out to prospects than ever before:
Direct mail
Email marketing
Social media
Personalized URLs
Text messaging
Blog posts
Most businesses see the best results from using a combination of all of these methods, rather than just focusing on one. With the increased popularity of smartphones in the last decade, companies are rushing head-over-heels to invest in digital marketing strategies. However, what many of them don't realize is that they're neglecting to take advantage of other great opportunities like direct mail, which yields response rates
more than
36x higher than email marketing. That's why the secret lies in using multiple strategies together. This is known as
multichannel marketing
. Instead of just sending out a direct mail piece, you can send out a direct mail piece with a scannable QR code that directs people to your website. Now instead of one touchpoint (the direct mail piece), you have two touchpoints (direct mail piece and website visit). You can even take this a step further by prompting those who visit your website to check out your social media pages. As you can see, the more strategies you link together, the more touch points you create for your audience. This is important because
data
shows that it takes at least seven touchpoints for consumers to enter a buyer consciousness.
Other Design Considerations
Quality Design Cannot Be Rushed
Design isn't simply a one-and-done event, but rather a continual, constantly-evolving process. We've all heard the saying
"Rome wasn't built in a day."
Despite being massively overused, this phrase rings true when thinking about design. Quality takes time. You need to test things, analyze the results, make changes, and try it again. It's only through trial and error that you can create something truly amazing. In fact, some of the largest companies in the world have been built by founders who maintain a long-term outlook on the future. For instance, Jeff Bezos has been quoted many times on his view about the importance of long-term thinking. Here's an excerpt from an
article
in which Bezos speaks about his long term strategy for Amazon:
If everything you do needs to work on a three-year time horizon, then you're competing against a lot of people. But if you're willing to invest on a seven-year time horizon, you're now competing against a fraction of those people, because very few companies are willing to do that. Just by lengthening the time horizon, you can engage in endeavours that you could never otherwise pursue. 
Of course, how far into the future you should look depends on the project you need to get done. For example, if you set a seven-year timeline for your next direct mail campaign, you just
might
run into some problems. The point here is don't be afraid to take a little extra time to get your design and branding right. You'll likely be rewarded for it in the long run.
Quality Design is Simple
In the AMC hit TV series, Mad Men, Jon Hamm plays the role of a creative director named Don Draper at a New York ad agency in the sixties. Draper is not without his flaws, however, he is arguably one of the most charismatic fictional characters in all of TV, and has been known to turn a good phrase every now and again. One of his most popular lines from the hit series is:
"Make it simple, but significant." 
Although these words are spoken by a fictional character, they couldn't be more true when it comes to design. You don't have to go far to see this advice in action, just reach into your pocket and pull out your phone. If you're like most people in Canada (
56.6%
to be exact), you have an iPhone. What makes Apple products so unique is their simple design. Their engineers have gone above and beyond and eliminated all unnecessary elements on each device. This minimalistic approach to design has provided Apple with a brand image that's simple, but significant.
Design is An Investment, Not An Expense
When you see something as an expense, your brain automatically starts to look for ways to cut it. On the other hand, when you see something as a profitable investment, you begin to look for ways to increase this investment. That's why it's important to look at quality design as an investment. The more time and effort you put into solidifying your brand's design, the more effective that design will be in capturing the attention of your audience. If you're better at capturing the attention of your audience, you're going to generate more business, and thus, increase your marketing ROI.
Want to Make Your Brand Stand Out?
ION provides complete marketing solutions to help your brand stand out from the crowd. We'll help you with every step of your campaign, including design, messaging, and distribution. If you would like to learn more about how we can help your business generate more leads and sales, please
get in touch
with us today!